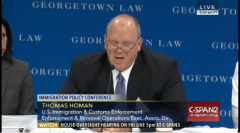 (CNSNews.com) – Acting Immigration and Customs Enforcement (ICE) Director Tom Homan said Wednesday that he would support allowing victims of criminal aliens to sue the city officials of sanctuary cities.
CNSNews.com asked Homan if he would support allowing victims of criminal aliens in sanctuary cities to sue the city officials.
"For those who make the decisions to release those alien citizens to the street, yes," Homan said during an off-camera briefing at the White House.
Homan and U.S. Attorney from Utah John Huber were at the White House Wednesday to take part in a roundtable discussion about immigration with the president and other stakeholders, as well as families of victims who were killed by illegals.
"ICE's new Victims of Immigration Crime Engagement, otherwise known as the VOICE Office, is working with families like the ones we'll be sitting with today to assist them in the aftermath of crimes that could have been prevented," Homan said.
"More than 400 calls from victims have been referred to our community relations officers and victim specialists for assistance with accessing resources, getting more information about a specific case, and how the immigration process works," he said.
"Sanctuary jurisdictions pose a threat to the American public by refusing to work with ICE and allowing egregious criminal offenders back into the community to put the lives of the public at risk.  Not to mention the fact, it also puts my law enforcement officers at risk because they have to go back on the street to arrest somebody they could have arrested in a county jail," Homan added.
Congress is set to vote Thursday on two bills aimed at cracking down in illegal immigration: Kate's Law (H.R. 3004) and the No Sanctuary for Criminals Act (H.R. 3003).
Both bills "would penalize criminal illegal aliens who break our laws and the jurisdictions that attempt to shield them from justice," Attorney General Jeff Sessions said in a statement Wednesday.
Kate's law, named after Kate Steinle, who was killed by an illegal alien who was deported five times before gunning her down, amends Section 276 of the Immigration and Nationality Act to increase the penalties against illegal aliens who repeatedly return to the U.S. illegally.
"Any alien who has been denied admission, excluded, deported, or removed, or who has departed the United States while an order of exclusion, deportation, or removal is outstanding, and subsequently enters, attempts to enter, crosses the border to, attempts to cross the border to, or is at any time found in the United States, shall be fined under title 18, United States Code, imprisoned not more than 2 years, or both," the bill states.
Notwithstanding that, if an illegal immigrant was convicted before such removal or departure for three or more misdemeanors or for a felony, he faces a fine and/or "not more than 10 years."
Also, "for a felony for which the alien was sentenced" to "not less than 30 months" in prison, he will be fined and/or imprisoned for "not more than  15 years." The sentence increases to "not more than 20 years" for a felony where the illegal immigrant is sentenced to "not less than 60 months." Murder, rape, kidnapping, a felony offense like peonage or debt servitude, slavery, and terrorism, or three or more felonies of any kind carry a sentence of "not more than 25 years."
The No Sanctuary for Criminals Act "would ensure that American taxpayers are not subsidizing States and localities that work to affirmatively thwart Federal law enforcement efforts," the White House said in a statement.
"For States or localities determined to be in violation of Federal law, H.R. 3003 would restrict their eligibility to receive certain Department of Justice or Department of Homeland Security grants. Instead, under this bill, those grant funds would be reallocated to States and localities that comply with Federal law," the White House said.
"Additionally, this bill would provide for more robust detention of criminal aliens. The Administration is committed to strengthening enforcement of our Nation's immigration laws in order to improve national security and public safety. This legislation is critical to these efforts," it added.